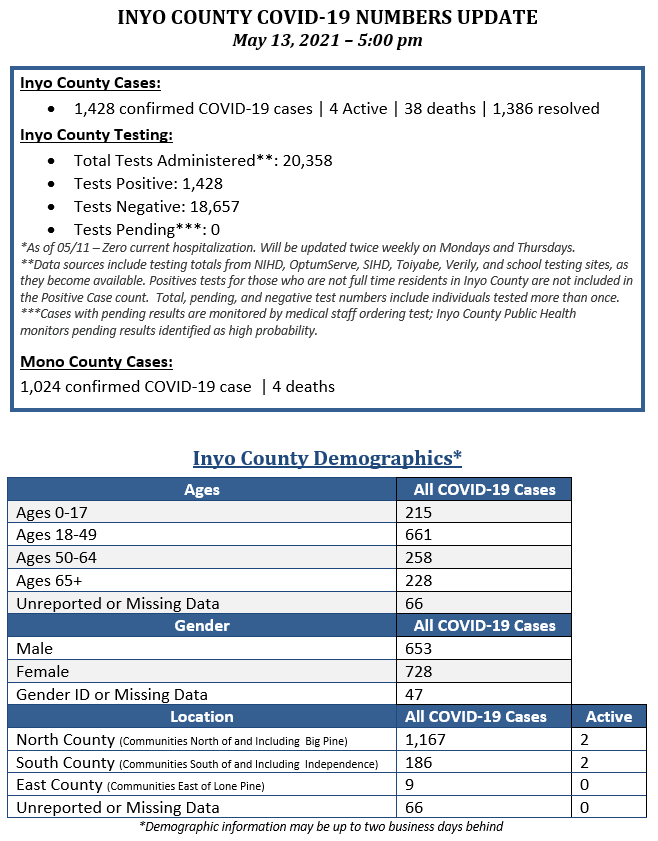 COVID-19 In Inyo County:

Please visit our Local Updates page for information about COVID-19 in Inyo County
and our Press Release page for any Inyo County COVID-19 related press releases
A Message from Clint Quilter, Inyo County CAO:
In response to the serious public health threat posed by the outbreak of COVID-19, the County of Inyo is implementing emergency measures to protect the safety and welfare of county residents and staff, as well as provide a forum for the public to access the most up to date Inyo County information including press releases and current updates.
Inyo County is following the guidelines laid out in California Gov. Gavin Newsom's executive order strongly recommending that all individuals living in the State of California stay home or in their residence to help prevent the spread of COVID-19. Many businesses have also been ordered to be closed. Details about the state "Stay at Home Order" and answers to the many questions it raises can be found in the FAQ section at https://www.inyocounty.us/covid-19/faqs.
Local governments are essential services that are required to stay open to ensure continuity of government. Thus, Inyo County employees will remain at work as needed to maintain critical county services and operations. For the safety of the public and county staff, county departments and offices have instituted a number of significant changes to normal operations. For an overview of those changes, see Press Releases on this site at https://www.inyocounty.us/covid-19/press-releases, which also includes additional announcements and information on the county's COVID-19 response.
As the lead authority for all public health emergencies in the county, the Inyo County Health and Human Services- Public Health Division is actively monitoring the situation and posting updates with critical information on COVID-19 from local, state and federal sources. The updates can be found at Local Updates at https://www.inyocounty.us/covid-19/local-updates.
An overview of the efforts being implemented by local hospitals, schools, the City of Bishop, federal land managers and other organizations in response to COVID-19 can be found at Local Guidance, at   https://www.inyocounty.us/covid-19/local-resources.
For the latest, most accurate information about COVID-19 from Center of Disease Control, the California Department of Public Health, and the World Health Organization, see Other Resources at https://www.inyocounty.us/covid-19/government-resources.
Inyo County wishes to thank everyone in advance for their concerted efforts to stem the spread of COVID-19 and support their community, their friends, family and neighbors. We are all in this together. Stay safe.
Upcoming Events: Coronavirus (COVID-19) Response
Testing is every Monday and Thursday from 8:00am to 4:00pm at the Bishop Tri-County Fairgrounds - Tallman Pavillion…
Testing is available every Tuesday and Friday from 8:00am to 4:00pm at the Lone Pine Senior Center - Statham Hall Eligible…