Reopening Inyo Businesses
Reopening Inyo Businesses
Current Update
California Small Business COVID-19 Relief Grant Program - APPLY TODAY!
California Relief Grant Program to begin accepting applications December 30, 2020 - January 13, 2021 for small businesses or small nonprofit. Get the full details at www.careliefgrant.com
Guides
Non-Profit  | All Businesses
Eligibility: 
This is a grant program provided by the State of California.  A small business or small nonprofit must satisfy the following criteria to be eligible to receive a grant award:
Must meet the definition of an "eligible small business". An "eligible small business" means (i) a "small business" (sole proprietor, independent contractor, 1099 work, and or registered "for-profit" business entity (e.g., C-corporation, S-corporation, limited liability company, partnership) that has yearly gross revenue of $2.5 million or less (but at least $1,000 in yearly gross revenue) based on most recently filed tax return) or (ii) a "small nonprofit" (registered 501(c)(3) or 501(c)(6) nonprofit entity having yearly gross revenue of $2.5 million or less (but at least $1,000 in yearly gross revenue) based on most recently filed Form 990)

Active businesses or nonprofits operating since at least June 1, 2019

Businesses must currently be operating or have a clear plan to re-open once the State of California permits re-opening of the business

Business must be impacted by COVID-19 and the health and safety restrictions such as business interruptions or business closures incurred as a result of the COVID-19 pandemic

Business must be able to provide organizing documents including 2018 or 2019 tax returns or Form 990s, copy of official filing with the California Secretary of State, if applicable, or local municipality for the business such as one of the following: Articles of Incorporation, Certificate of Organization, Fictitious Name of Registration or Government-Issued Business License

Business must be able to provide acceptable form of government-issued photo ID

Applicants with multiple business entities, franchises, locations, etc. are not eligible for multiple grants and are only allowed to apply once using their eligible small business with the highest revenue
Grant Amounts
The amount of grant funding ranges from $5,000 to $25,000. Businesses are eligible based on their annual revenue as documented in their most recent tax return: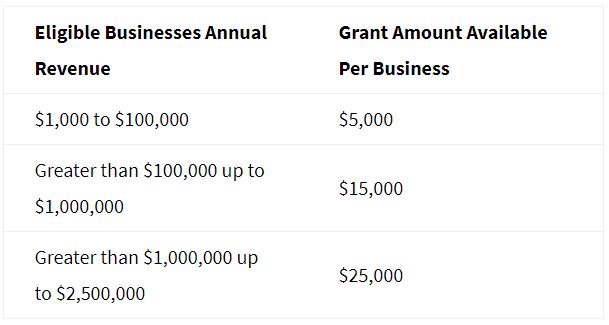 To Apply: 
Go to www.careliefgrant.com, scroll down until you see "Apply Through A Partner" and click on BY COUNTY and select INYO.  Next, choose a partner and click on the APPLICATION button.  The partner you choose will be able to assist you with any questions you might have (please note this is not an Inyo County program, so you must work with your partner to address any questions you may have).  Follow all directions for grant eligibility and the application process.  
Regional Stay Home Order
As of Saturday December 5th, the California Department of Public Health issued a Regional Stay Home order for the Southern Region, which includes Inyo County.  The order was triggered when the region's hospital intensive care unit (ICU) capacity fell below 15% of ICU bed availability in the region.  The Stay Home order remains in effect for a minimum of 3 weeks.  This limited closure will help stop the surge on our hospitals and prevent overwhelming our regional ICU capacity, which Inyo County relies heavily on to meet the needs of critical care patients. 
The order went into effect on Sunday, December 6th at 11:59 p.m. at which time the following sectors were required to close:
Indoor/outdoor playgrounds and indoor recreational facilities
Hair Salons/Barbershops
Personal Care Services
Limited Services
Family entertainment centers, as well as amusement parks and movie theaters
Museums, zoos, and aquariums
Live audience sports
Cardrooms and satellite wagering
Bars, breweries, distilleries, and wineries
All other indoor, non-critical infrastructure industries not specifically listed above
Sectors that need to implement additional modifications to capacity and will require 100% masking include:
Outdoor recreational facilities (no food, drink or alcohol sales) - Overnight stays at campgrounds not permitted.

Retail and shopping centers – Indoor capacity reduced to 20% with entrance metering and 35% of capacity for standalone grocery stores

Hotels/Lodging – open for critical infrastructure support only
Restaurants – open for take-out or delivery only
Office – Remote only except for critical infrastructure sectors where remote working is not possible
Places of worship and political expression – Outdoor only
Entertainment production, including professional sports – operate with no live audience and include testing protocol
All critical infrastructure sectors remain open under current modifications. The Regional Stay Home order instructs Californians to remain home as much as possible and prohibits gatherings of any kind, including the mixing of households in a private setting.  It encourages outdoor activities and allows access to critical services.
For more information on the Regional Stay Home order and to monitor updates, view https://covid19.ca.gov/stay-home-except-for-essential-needs/  or contact the Business Line at (760) 878-8241.
News Items: Reopening Inyo Businesses
FOR IMMEDIATE RELEASE CONTACT:           Carma Roper, Public Information Officer; croper@inyocounty.us  INYO COUNTY MOVES TO RED TIER INYO…
Safe Reopening for Businesses
The State of California has released a Resilience Roadmap allowing certain businesses to reopen with modifications or restrictions.  
General Guidelines For Business:
According to Resilience Roadmap, before reopening, all facilities must:
Perform a detailed risk assessment and implement a site-specific protection plan
Train employees on how to limit the spread of COVID-19, including how to screen themselves for symptoms and stay home if they have them
Implement individual control measures and screenings
Implement disinfecting protocols
Implement physical distancing guideline
GET certified to reopen: 
Review your industry guidelines (see Industries page)
Prepare your business and complete the checklist
Complete the Inyo County Business Attestation form
Visibly post your completed checklist within your business
The county is following the Governor's four stage plan for reopening. At this time only Stage 1 and Stage 2 industries are approved for reopening. 
Stage 3 industries should prepare to reopen by reviewing the guidelines and implementing the checklist. 
Sign up to be on the County's mailing list for updates on everything COVID-19 related