Eastern Sierra Child Support Services Child Support Awareness Month - August 2022
Eastern Sierra Child Support Services Child Support Awareness Month - August 2022
Child Support Awareness Month
One Size Does NOT Fit All
Inyo/Mono County – August is Child Support Awareness Month, recognized in California and nationwide. In partnership with the 47 county and regional child support offices, California Child Support Services recognizes that families come in all shapes and sizes and that means one size does not fit all when it comes to the service and care required.
The services available through California's child support program are as diverse as the people who use them. Child support professionals help both moms and dads attain the financial stability they need for the children they care for, and their payments help each other cover essentials like rent and childcare.
California's vibrant recovery from the pandemic has created many jobs - in the public sector, agriculture, private industry and in gig work, and now hundreds of thousands are teleworking. While parents adapt to support their children each in their own way, Child Support Services has updated its programs for Californians paying and receiving child support, including the newly revised Debt Reduction Program, now based on ability to pay rather than a flat percentage so that more parents in arrears are achieving relief from state-owed debt.
During Child Support Awareness Month, it is important to remember that we know that one size does not fit all. That's why California Child Support Services and local child support offices across the state take care to reflect the needs of each parent and make the process adaptable and collaborative.
Eastern Sierra Child Support Services serves families by establishing parentage, obtaining child support and medical support orders, and enforcing child and spousal support obligations.  Serving Inyo and Mono County child support participants.  For more information, call 866-901-3212 or view the Department of Child Support Services website at www.childsupport.ca.gov.
###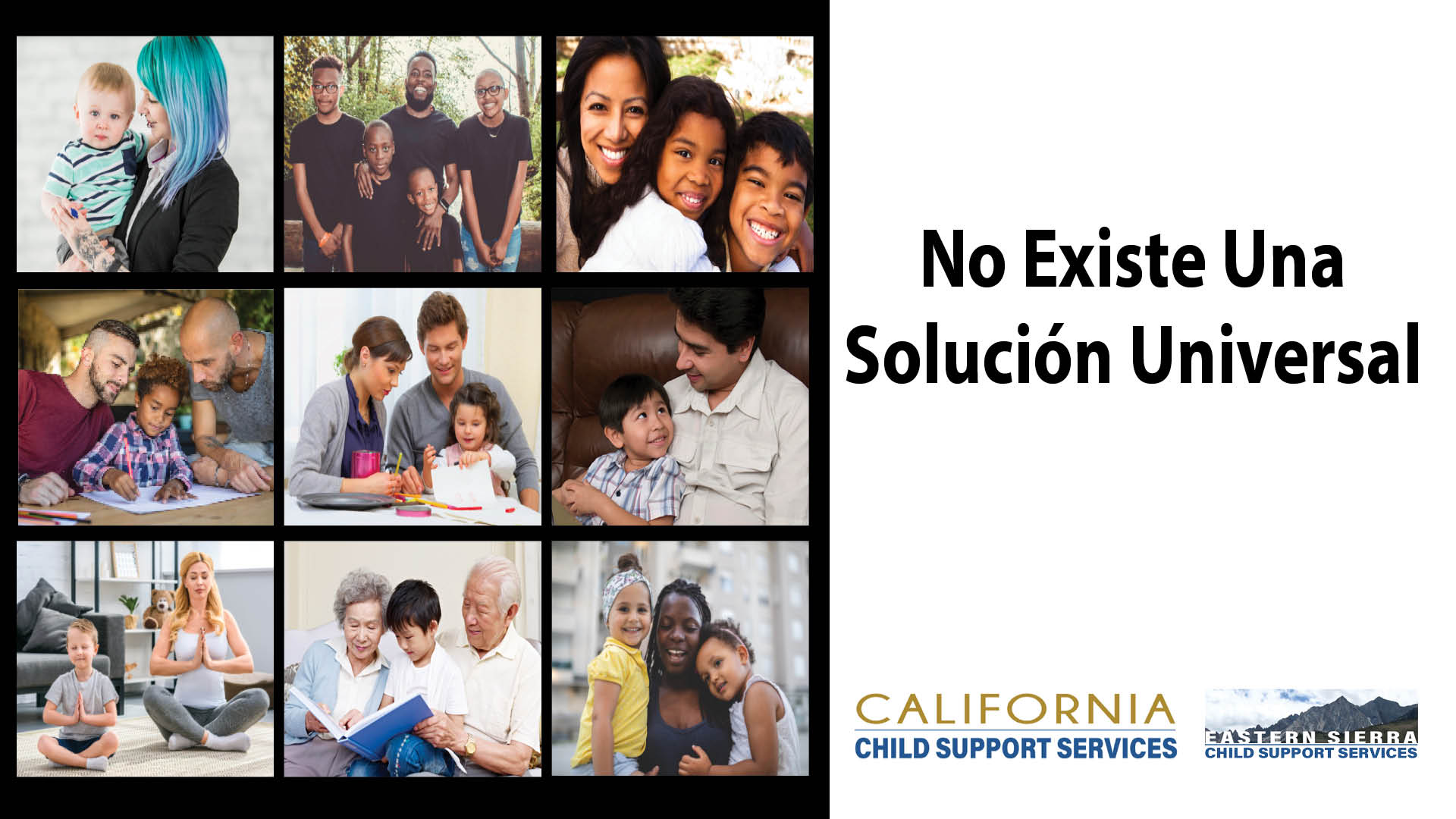 El Mes de Concientización sobre Child Support
No existe una solución universal
Condado de Inyo/Mono – Agosto es el Mes de Concientización sobre Child Support, el cual es reconocido en California y en todo el país. En asociación con las 47 oficinas de child support en cada Condado y oficinas regionales, los Servicios de child support de California reconocen que las familias vienen en todas las formas y tamaños, lo que significa que una talla no es suficiente para todos cuando se trata del servicio y la atención requerida.
Los servicios disponibles a través del programa de child support de California son tan diversos como las personas que los utilizan. Los profesionales de child support ayudan tanto a las mamás como a los papás a lograr la estabilidad financiera requerida por los niños que están bajo sus cuidados, y sus pagos mutuamente ayudan a cubrir las necesidades básicas de los niños como lo es el alquiler y guardería.
La recuperación vibrante de California posterior a la pandemia ha generado diversas oportunidades de empleo en el sector público, privado, agricultura, y trabajos temporales, por lo que ahora cientos de miles de personas están trabajando a distancia. Mientras los padres se adaptan a su manera para continuar proveyendo a sus hijos, los servicios de child support han actualizado sus programas para los californianos que pagan y reciben child support, incluido el recientemente revisado Programa de Reducción de Deuda, el cual actualmente está basado en la capacidad de pago en lugar de un porcentaje fijo, logrando un alivio en aquellos padres que cuentan con atrasos por tener una deuda estatal.
Durante el Mes de Concientización sobre Child Support, es importante recordar que sabemos que una talla no sirve para todos. Es por eso que los servicios de child support de California y las oficinas locales de child support en todo el estado se preocupan por resultar las necesidades de cada padre y hacer que el proceso sea adaptable y colaborativo.
El Departamento de Child Support del Eastern Sierra sirve a las familias estableciendo la paternidad, obteniendo órdenes de manutención infantil y de manutención médica, y haciendo cumplir las obligaciones de manutención infantil y conyugal. Servimos a los participantes de manutención infantil de los condados de Inyo y Mono. Para obtener más información, llame al 866-901-3212 o visite el sitio web del Departamento de Servicios de Child Support en www.childsupport.ca.gov.