District Lookup by Address
District Lookup by Address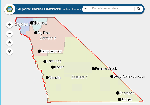 How to find out what district you're in, and how to find the contact information for your district's Supervisor.
1. Click on the image above to link to the District Lookup Map. Once in the dynamic map, click one of the districts and a pop-up appears showing the district number, supervisor, supervisor's contact information, and a photo of the supervisor.
2. If you are not sure which district you are in the search function on the upper bar allows searching by address. When an address is located by the search function it zooms in to the address, and the pop-up appears with supervisorial information and the photo.
3. You can also just zoom in to your address and click on an address point to launch the pop-up.