In order to follow current health protocols and protect the health of our community

INYO COUNTY LIBRARY BRANCHES WILL BE CLOSED TO THE PUBLIC UNTIL FURTHER NOTICE.

Please refer to this website or call to get updates on the closure and what services may be available. Read more

 
See below for links to COVID-19 assistance and news, as well as alternatives to the physical library for adults and children:
COVID ASSISTANCE
INYO COUNTY COVID-19 RESPONSE Press releases and daily updates, local resources & guidance from the County of Inyo
Community Assistance: Any individual that needs local resource information on food, health, support, faith, or volunteer options can visit https://www.inyocounty.us/services/health-human-services/covid-19-food-shelter-resources or call 760-878-8559 Monday-Friday, 9am-12pm and 1pm-4pm.  You will be matched to the appropriate agency based on the type of assistance requested.
COVID-19 Food & Shelter Resources for Inyo County
Bishop & Big Pine Restaurants for Delivery & Takeout Sierrawave.com
Local business owners who may have suffered economic hardship due to COVID-19 can find resources for assistance at the following link: https://www.inyocounty.us/covid-19/local-resources/local-businesses.  
Get financial help CA.gov  If you have been financially affected by COVID-19, you may be eligible for:
Unemployment insurance
Paid family leave
Disability Insurance
Relief from financial institutions
Statewide moratorium on evictions
COVID NEWS
INYO COUNTY PUBLIC HEALTH ORDER 5/8/2020  Inyo County Health and Human Services Department Public Health Officer Order - Face Coverings & Masks Required in Public.  New order provides for universal use of cloth face coverings by the general public when leaving their homes to access essential and non-essential services, especially when unable to maintain 6' social distancing.
Inyo County Health and Human Services Department Public Health Officer - Rescission of Certain Health Orders 5/8/2020  Rescision of Public Health Orders on gatherings and business 3/20/2020 and 3/31/2020
INYO COUNTY PUBLIC HEALTH ORDER UPDATEDHealth Order identifying self-isolation and quarantine measure 5/8/2020
Governor Newsom Outlines Six Critical Indicators the State will Consider Before Modifying the Stay-at-Home Order and Other COVID-19 Interventions 4/14/2020
Paid Sick Leave Benefits for Food Sector Workers Impacted by COVID-19 Governor Gavin Newsom today signed an executive order to support California workers from large employers in the food sector industry impacted by the COVID-19 pandemic with two weeks of paid sick leave. 4/16/2020
INYO COUNTY PUBLIC HEALTH ORDER 4/23/2020  Inyo County Short-Term Lodging Prohibition Extension:  The prohibition of short-term lodging facilities (including short-term rentals, vacation rentals, timeshares, hotels, motels, campgrounds, RV parks, and any other facility or property offering accommodation to renters for less than 30 days) within Inyo County has been extended to June 1, 2020. Lodging may only be provided for the purposes specifically listed in the Health Order.
Death Valley National Park Is Modifying Operations To Implement Local Health Guidance (news release) 4/4/2020  Death Valley National Park will be closed to all park visitors until further notice. California State Highway 190 and Daylight Pass will remain open for pass through traffic.
Governor Newsom Announces New Help for Small Businesses & Workers Displaced by COVID-19 4/2/2020
Governor Newsom Issues Executive Order Protecting Homes, Small Businesses from Water Shutoffs 4/2/2020
Governor Newsom Announces Agreement Between Teachers, Classified Employees and School System Management to Support Student Instruction During COVID-19 Outbreak 4/1/2020
INYO COUNTY PUBLIC HEALTH ORDER 3/31/2020  Prohibition on certain short-term lodging rentals
INYO COUNTY PUBLIC HEALTH ORDER 3/27/2020 Inyo County Health Officer orders self-isolation and self-quarantine for individuals with any COVID-19 exposure
National Forest System Regional Order 3/27/2020  Closure of developed recreation areas in the National Forest System lands within the Pacific Southwest Region.  News release.
EMERGENCY CLOSURE ORDER 3/27/2020 Bureau of Land Management California
Death Valley National Park is Modifying Operations to Implement Latest Health Guidance (news release) 3/21/2020  Death Valley National Park will offer very limited services outside those that support visitor or resource protection.
INYO COUNTY PUBLIC HEALTH ORDER 3/20/2020Temporary prohibition of non-essential public gatherings / Required social distancing measures / Closure and limitations of certain businesses.
California Responds to COVID-19 Emergency by Providing Path to Coverage for Millions of Californians Covered California 3/20/2020
Inyo County Implements Public Health Precautions PRESS RELEASEinfo on closures and restrictions of Inyo County facilities 3/19/2020
Death Valley National Park is Modifying Operations to Implement Latest Health Guidance (news release) 3/18/2020  As of March 18, 2020, all visitor centers are closed, ranger led programs cancelled, and the following campgrounds are closing today and tomorrow: Emigrant, Mesquite Springs, Texas Springs, Furnace Creek, Sunset and Stovepipe Wells.
Governor Gavin Newsom issued an executive order to all individuals living in the State of California to stay home Executive order from Governor Newsom 3/19/2020
THE NEW YORK TIMES is providing free access on the global coronavirus crisis. Click here.
Coronavirus in California: Map and Case Count The New York Times
Some countries and U.S. states and territories are winning the battle against the coronavirus, and some need to take stronger action. See who's ahead and who still has a lot of work to do in this series of graphics from the EndCoronavirus.org network of experts and scientists.
The COVID Tracking Project  The Atlantic is sponsoring a site for data collection of COVID cases with graphs for the US and the states.  This data is being used by the White House, Johns Hopkins, and news organizations.
 
lIBRARY ALTERNATIVES
During this time of curtailed library services many publishing and education services have provided special access to their services.  We have also found some links to sites that may be of interest as an alternative to the library, especially for kids.
Inyo Distance Learning / Inyo County Office of Education On this site you will find content resources specific for various grade spans, resources and supports for parents and caregivers during this challenging time, and resources in support of the social emotional well being of students and families.
STREAMING VIDEO AND AUDIO
KANOPY'S ACTION PLAN  While libraries are limiting programming, Kanopy is offering selected free films and free Kanopy Kids films.  Click here for Kanopy, or use your Kanopy app on your device.  Log in with your library card number and PIN.
AMAZON AUDIBLE is offering free streaming audio stories for kids while schools are closed. Click here.
 
BBC SOUNDS Top-class live music from some of the world's finest musicians.
LEARNING AND REFERENCE
QUICK ACCESS TO CALIFORNIA K-12 ONLINE CONTENT DURING THE COVID-19 CRISIS  California offers — at no cost to local schools, districts or students — access to online educational content from Encyclopaedia Britannica, ProQuest and TeachingBooks.net for use by every public K-12 school and student in the state.  ProQuest research databases, the TeachingBooks literacy service and online content from Encyclopaedia Britannica are available to every Californian from this website at least until May 31.
GALEis offering open access to some of their most comprehensive resources for learning.  Curriculum-aligned content for students pre-K through undergraduate and  resources for credible information on topics related to health and global issues. Click here.
With schools and education programs shut down across the country, our friends over at 

Winter Wildlands Alliance

 have put together an amazing page of resources called HomeSchool SnowSchool. It's all the amazing fun of SnowSchool, from the safety of your own home, and has activities tailored to all K-12 grades.
Omnigraphics has made Health Reference Series Online available until April 30th.  Enter library card number for access.
 
Pandemics: The Invisible Enemy (PDF) From Salem Press & Grey House Publishing to Explore Current Events through an Historical Lens
 
BOOKBROWSE FOR LIBRARIES Free, full access to BookBrowse for librarians and patrons through the end of May. To enjoy full access to all of BookBrowse for two months. If asked to login, enter: staysafe.
 
FOR KIDS
Random House Children's Books and Mary Pope Osborne, author of the popular Magic Tree House series, have announced a new online program, aimed at keeping young readers engaged during the coronavirus crisis. MAGIC TREE HOUSE Home Adventures will run from April 27 to May 22, featuring weekly themed videos, crafts, games, reading challenges, recipes, trivia, and other activities tied to the series and its characters. Readers will also have access to videos of Osborne reading and answering questions from fans.
 
STORYLINE ONLINE  streams videos featuring celebrated actors reading children's books alongside creatively produced illustrations. 
Lunch Doodles with MO WILLEMS  Learners worldwide can draw, doodle and explore new ways of writing by visiting Mo's studio virtually once a day for the next few weeks.
Welcome to DAV PILKEY At Home. Together we can get creative and have fun with some of your favorite characters from Dog Man and Captain Underpants! Check back every Friday to discover new activities, exciting videos, and so much more!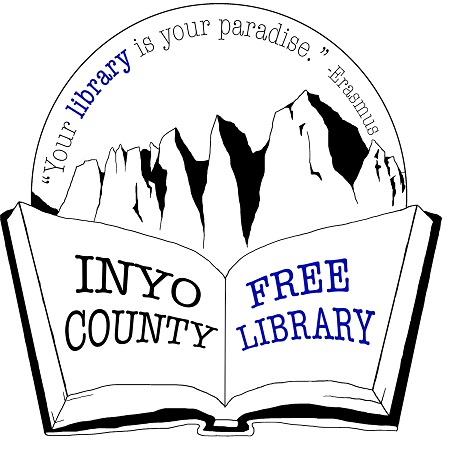 The Inyo County Free Library was formed in 1913, serves a population of about 18,000, and has six branches. The Library has a rich collection of local history materials at the Central Library in Independence, the county seat.
The library collection contains over 130,000 items, books, audio, and video, which can be discovered through our catalog.  This collection is also supplemented through our e-services with collections of e-books, downloadable audiobooks, e-magazines, and streaming video.  Public internet computers are available at all of the library branches.
Please select your home branch to go to the library catalog:
See the most recent books and other media that are new to the library--new releases and older titles recently acquired, added to the catalog, and available now.
NEW ACQUISITIONS AT THE LIBRARY
Street Address
168 N. Edwards St.
Independence, CA93526
United States
Mailing Address
P.O.Box K
Independence, CA93526
United States
Street Address
168 N. Edwards St.
Independence, CA93526
United States
Mailing Address
P.O.Box K
Independence, CA93526
United States
How do I get a library card?
How do I request a book, video, or audiobook?