In order to follow current health protocols and protect the health of our community

INYO COUNTY LIBRARY BRANCHES WILL BE CLOSED TO THE PUBLIC UNTIL FURTHER NOTICE.

Please refer to this website or call to get updates on the closure and what services may be available.

Below are lists of services that will not be available and services that will be available during the public closure.  

Suspended: 

Walk- in services, such as copies, internet, printing, book browsing, proctoring tests, etc.

Requests from the catalog, Zip Book requests 

In-person reference service

Physical access to Local History collectio

n

Library programs, such as Story Time 

Acceptance of donations (please bring donations when the library is re-opened) 

Accessible: 

Phone and internet reference, if the answer can be supplied verbally or by email.   

Readers advisory questions  

Local history research requests, if the answer can be supplied verbally or by email. Patrons will be assisted in the use of our digitized resources, such as newspapers and documents, via telephone or email. 

Renewal of material currently checked out by telephone or assisting patrons in the use of the catalog and patron accounts.  Renewals can still be done through the online catalog with a patron account.

Bookdrops for returning library material that was checked out.

Access to e-services such as Overdrive,

E

nki, and Kanopy (Kanopy has responded by making some films free during this time, that won't count towards monthly quota).  Please call the library for help with accessing these services.

For assistance or more information, call (760) 878-0260 or (760) 873-5115. 
 

 

COVID NEWS

Inyo County Health Officer orders self-isolation and self-quarantine for individuals with any COVID-19 exposure Public Health Officer Order

Inyo County Health & Human Services COVID Update

INYO COUNTY COVID-19 RESPONSE Press releases and daily updates, local resources & guidance from the County of Inyo

INYO COUNTY PUBLIC HEALTH ORDER 3/20/2020Temporary prohibition of non-essential public gatherings / Required social distancing measures / Closure and limitations of certain businesses.

Inyo County Implements Public Health Precautions PRESS RELEASEinfo on closures and restrictions of Inyo County facitlities 3/19/2020

Governor Gavin Newsom issued an executive order to all individuals living in the State of California to stay home Executive order from Governor Newsom 3/19/2020

How to Apply for Unemployment Benefits The New York Times--California Today

California Responds to COVID-19 Emergency by Providing Path to Coverage for Millions of Californians Covered California

EMERGENCY CLOSURE ORDER Bureau of Land Management California

THE NEW YORK TIMES is providing free access on the global coronavirus crisis. Click here.

Bishop & Big Pine Restaurants for Delivery & Takeout Sierrawave.com

For more news and information on Coronavirus, click here.  

 

lIBRARY ALTERNATIVES

During this time of curtailed library services many publishing and education services have provided special access to their services.  We have also found some links to sites that may be of interest as an alternative to the library, especially for kids.

JUNIOR LIBRARY GUILD has made their digital online reading platform available.  Select the school-level book stream of your choice and you'll be automatically logged in.  Elementary Stream / Middle School Stream / High School Stream

KANOPY'S ACTION PLAN  While libraries are limiting programming, Kanopy is offering selected free films and free Kanopy Kids films.  Click here for Kanopy, or use your Kanopy app on your device.  Log in with your library card number and PIN.

WORLD BOOK has provided Pre-K to grade 12 learning resources through April 30, 2020.  Click here for access.  Visit the World Book Online Training & Support Guide to learn more about these resources and other Distance Learning Support for Parents and Schools.

QUICK ACCESS TO CALIFORNIA K-12 ONLINE CONTENT DURING THE COVID-19 CRISIS  California offers — at no cost to local schools, districts or students — access to online educational content from Encyclopaedia Britannica, ProQuest and TeachingBooks.net for use by every public K-12 school and student in the state.  ProQuest research databases, the TeachingBooks literacy service and online content from Encyclopaedia Britannica are available to every Californian from this website at least until May 31.

AMAZON AUDIBLE is offering free streaming audio stories for kids while schools are closed. Click here.

GALEis offering open access to some of their most comprehensive resources for learning.  Curriculum-aligned content for students pre-K through undergraduate and  resources for credible information on topics related to health and global issues. Click here.

Omnigraphics has made Health Reference Series Online available until April 30th.  Enter library card number for access.

STORYLINE ONLINE  streams videos featuring celebrated actors reading children's books alongside creatively produced illustrations. 

SESAME STREET'S CARING FOR OTHERS This site provides content and resources you can use with your family to offer comfort and spark playful learning activities.

LUNCH DOODLES WITH MO WILLEMS  Learners worldwide can draw, doodle and explore new ways of writing by visiting Mo's studio virtually once a day for the next few weeks.

With schools and education programs shut down across the country, our friends over at Winter Wildlands Alliance have put together an amazing page of resources called HomeSchool SnowSchool. It's all the amazing fun of SnowSchool, from the safety of your own home, and has activities tailored to all K-12 grades.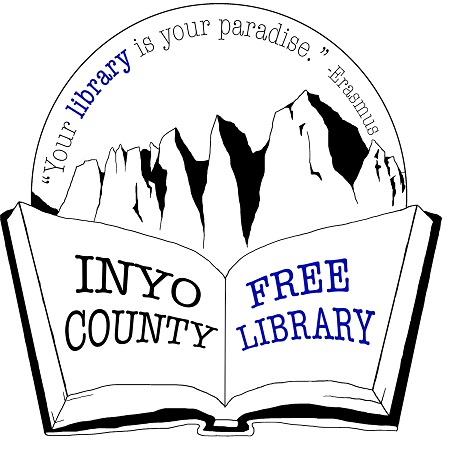 The Inyo County Free Library was formed in 1913, serves a population of about 18,000, and has six branches. The Library has a rich collection of local history materials at the Central Library in Independence, the county seat.
The library collection contains over 130,000 items, books, audio, and video, which can be discovered through our catalog.  This collection is also supplemented through our e-services with collections of e-books, downloadable audiobooks, e-magazines, and streaming video.  Public internet computers are available at all of the library branches.
Please select your home branch to go to the library catalog:
See the most recent books and other media that are new to the library--new releases and older titles recently acquired, added to the catalog, and available now.
NEW ACQUISITIONS AT THE LIBRARY
Street Address
168 N. Edwards St.
Independence, CA93526
United States
Mailing Address
P.O.Box K
Independence, CA93526
United States
Street Address
168 N. Edwards St.
Independence, CA93526
United States
Mailing Address
P.O.Box K
Independence, CA93526
United States
How do I get a library card?
How do I request a book, video, or audiobook?