General Aviation (KBIH)
General aviation information
KBIH is a full-service regional airport for General Aviation pilots - offering fuel, light repairs, flight training, and friendly, helpful staff.  
Please note that the main ramp is closed to GA traffic due to KBIH's new status as a commercial service airport.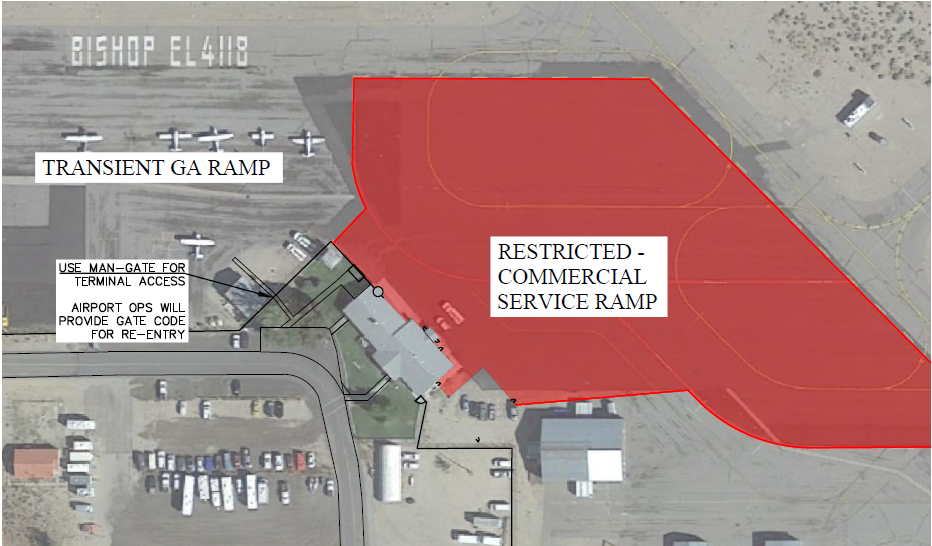 For technical information visit KBIH page on AirNav.com.
Flying into Bishop, California is a great experience. The weather in the Owens Valley is good year-round. There are 330+ days of sunshine, the climate is relatively mild with low precipitation and an unforgettable view over some of the most beautiful sights that this vast region has to offer.  Within one hour, a flying tour can take you past Mt. Whitney, or through Mammoth Pass, or high above the alpine lakes of the Sierra Nevada, or up and down canyons awash with fall colors, or out over the twists and turns of the Owens River, or into Death Valley for lunch at The Oasis. 
Bishop Airport (KBIH) is a public airport operated by Inyo County. The airport sees activity from a wide range of aviators and organizations. In addition to serving the local community of private pilots, the airport attracts business from visiting pilots and air charter companies. 
When needed it is a base for Inyo County Search & Rescue operations and firefighting tanker planes. Fire repellent is stored on site during fire season. Local, regional and national agencies such as the US Military, US Forest Service, CA Dept. of Fish & Wildlife, and utility companies use the airport as a base for refuel and aircraft storage.
On the ground, the tie-downs are almost unlimited and fuel is very reasonably priced. The small airport building has all the necessary amenities, including a good Thai food restaurant that is well regarded by Bishop locals, and the staff are known to be helpful and friendly.
NOTICE: Information presented on this web site is not intended for navigation or flight planning purposes.
MEDICAL FLIGHTS
A commercial medical evacuation service is based permanently at the airport and is 'on-call' 24/7/365.
FLIGHT TIMES TO KBIH (Approximate)
Los Angeles - 2 hrs. or less
Reno - 1.5 hrs. or less
Bay Area - 2 hrs. or less
Las Vegas - 1.75 hrs. or less
General Aviation (KBIH) Links
Airfield and Communications
Airfield and Communications
See current Airport/Facility Directory for complete information
Field Elevation: 4,118  CTAF/UNICOM:  123.0 Mhz / (760) 872-2971
Runway 12/30 (7,498 X 100)  ASOS:  119.025 Mhz / (760) 872-2658
Runway 17/35 (5,600 X 100)  VOR/DME:  109.6 Mhz, Ch 33 (BIH)
Runway 8/26 (5,566 X 100)  FLIGHT SERVICE:  Riverside 122.6 Mhz (RCO)
Calm Wind Runway: 30  APCH/DEP:  Oakland Center 125.75/284.65
Left Traffic All Runways  LDA/DME:  109.1 Mhz I-BIH Ch 28, Rwy 16
AIRPORTS - Identifier - Flight distance - Location   
Mammoth-Yosemite - KMMH - 26nm - Mono Co.
Independence - 2O7 - 34nm - Inyo Co.
Lone Pine - O26 - 49 nm - Inyo Co.
Lee Vining (Mono Lake) - O24 - 49nm - Mono Co.
Bridgeport - O57 - 66nm - Mono Co.
Tonopah, NV - KTPH - 75nm - Nye Co.
Fresno Int'l - KFAT - 75nm - Fresno Co.
Furnace Creek (Death Valley) - L06 - 90nm - Inyo Co.
Shoshone - L61 - 132nm - Inyo Co.
Airport Services & Amenities
Airport Services & Amenities
Unicom Hours: 8:00 a.m. to 5:00 p.m. (except selected holidays) (760) 872-2971
Jet-A and 100LL fuel (24-hr self serve)
Terminal Wi-Fi
Aviation Oil & Prist
Snack & Beverage Vending Machines
Tie-Downs ($14.00/night transient single engine)
Air Conditioned Passenger Lounge
Outdoor seating with ramp/runway/mountain views
Auto & RV Parking
Emergency After Hours Service (760) 937-4017
THAI THAI Restaurant - Open everyday but Wednesday 11am - 8pm
Other Services
Auto Rental (Enterprise)
Local Shuttle Service (see transportation page)
Light Aircraft Repairs
Aircraft Rental
Charter & Sightseeing Flights
PHONE: (760) 872-2971 (8:00 a.m. - 5:00 p.m.)
AFTER HOURS: (760) 937-4017
FAX: (760) 873-8490
E-MAIL: sloven@inyocounty.us
703 Airport Road 
Bishop, CA 93514
Steve Loven, Airport Operations Supervisor
760-872-2971
sloven@inyocounty.us
KBIH experiences high temperatures and density altitudes in the warmer months and occasional high winds year round.
Mountain wave conditions and turbulence are frequent in the Owens Valley and surrounding mountain ranges.
Pilots are advised to check weather conditions frequently and carefully consider aircraft loading and performance.

High winds over the crest of the Sierra Nevada Mountains to the West are common.
NOTICE: Information presented on this web site is not intended for navigation or flight planning purposes.
All photography by Ken Babione unless otherwise indicated.