Using This Website
Overview
Welcome to the newly redesigned Inyo County website. It has been created with several goals in mind. We have:
Made finding information much easier for you, the user. The site has been reorganized and is easier to use.
Simplifed navigation as well as presented multiple navigation options for accessing the site.
Made it possible for our departments and county employees to more easily let you know what's new, important, and happening in Inyo County.
Made the site easier to view and use across a wide variety of computers and mobile devices.
Made searching the site using 'keyword' and 'How Do I?' fields an easy and thorough way to find information on the site.
Put in place features that make the site more accessible to disabled users.
Browser Requirements
View this site on desktop and laptop computers as well as mobile devices. The website works best on these browsers:
Microsoft Edge
Chrome
Firefox
Safari
iOS Devices
Android Devices
General Navigation
There are several ways to navigate around the website:

The Inyo County badge in the top right-hand corner of the screen will always bring you back to the home page.
The row of smaller links at the top of the page Home, Calendar, Directory, and Contact will take you directly to those pages, bypassing the main menu.
The next row of larger links describes the main categories of information on the site. Rolling over these top links opens a dropdown main menu of links to information in that category. Clicking on the top link will take you to that category's main page.
Under the row of larger links lives the carousel of quick links, which take you directly to the page on which that information lives. Quick links are generally to information that the county feels will be most helpful to you.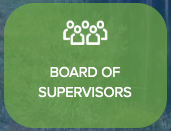 Page Navigation
At the top of the page underneath the page title, you'll see page "breadcrumbs." These breadcrumbs lead you from this page directly back to the home page.

On the side of the page will be the navigation for the links in that category. You can move between areas of interest by clicking on one of the other links in the menu.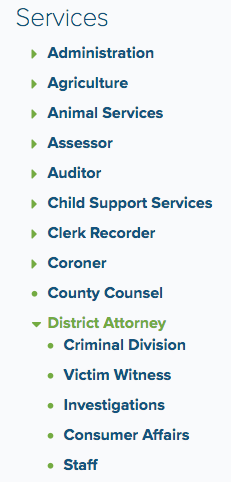 If you have other questions or need more help, email the Inyo County Information Services department.