Eastern Sierra Entrepreneur Meetup
Eastern Sierra Entrepreneur Meetup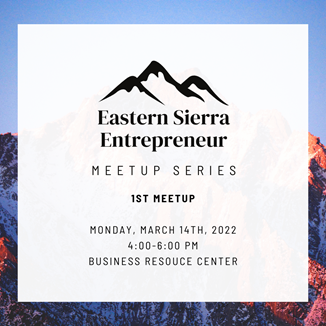 Join entrepreneurs and support organizations from Eastern Sierra to network & learn about resources for local entrepreneurs.
The Eastern Sierra Entrepreneur Meetup Series kicks off Monday March 14th, 2022 at the Business Resource Center. Join us for networking, storytelling, and activities to inspire the growth of entrepreneurship in Eastern Sierra. Complimentary snacks and libations will be provided.
Where: Business Resource Center (formerly Crafter's Mall), 269 N Main St, Bishop, CA 93514
When: Monday, March 14th, 2022 4:00-6:00 pm
Who: Community Members, Employers, Entrepreneurs, Community Leaders, Business Support Organizations
What: Networking, Panel Discussion, Complimentary Appetizers & Libations
Panel Discussion: Navigating Your Entrepreneurial Journey - You're not alone!
RSVP: https://www.eventbrite.com/e/easter-sierra-entrepreneur-meetup-tickets-289837601067