Updated: 09/22/2022
Monkeypox is a virus that spreads through prolonged skin-to-skin contact, sex, kissing, breathing at very close range, or sharing bedding and clothing. It can be serious and painful, though most cases resolve on their own.
** Having sex or close contact with multiple people can put you at higher risk for monkeypox if it is spreading in the community. **
Monkeypox appears as a distinctive rash or sores on the skin anywhere on the body, especially in the genital area.  It often begins with flu-like symptoms.
>> Demand for vaccine is high, and supply is extremely limited at this time.
Inyo County Public Health is working with the California Department of Public Health and other local healthcare providers to monitor for monkeypox, to provide health education, and to help control the spread of the virus.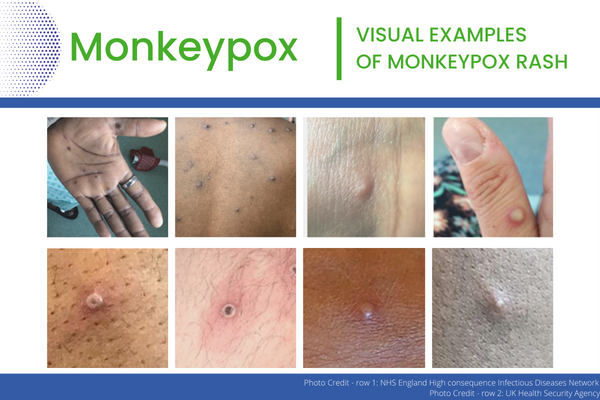 Symptoms
Monkeypox often begins as a flu-like illness. It also appears as a distinctive rash or sores or sports that can look like pimples or blisters on the skin anywhere on the body, especially in the genital area. Spots can also be inside the rectum, on fingers, or in the mouth and eyes.
Generally, the spots start as red, flat spots and then become bumps.  Those bumps then become filled with fluid which turns to pus. The bumps are often painful.  The pus bump then breaks and crusts over into a scab. The scabs may be itchy. If bumps are in the rectum, some people have also reported pain or discomfort inside their rectum.
Some people never get a rash.  They may have a fever, swollen glands, or muscle aches.  Some people get a rash and other symptom together. Some get one after the other, and for some people symptoms start with a fever and only two or three spots.
More information about Monkeypox signs and symptoms is available on the CDC's website.
Monkeypox Surveillance Data - Inyo County
As of September 22, 2022, there have been zero (0) cases of monkeypox virus reported among Inyo County residents.
The California Department of Public Health's Monkeypox website provides information on the number of cases of monkeypox in California by County, as well as limited information on demographic groups affected by the virus. Information about cases by state can be found on the CDC's Monkeypox Situational Summary website.
Monkeypox can be spread through:
Direct skin-skin contact with rash lesions

Sexual/intimate contact, including kissing (please note that condoms do not fully protect against monkeypox transmission because of skin to skin contact in other areas)

Living in a house and sharing a bed with someone who has monkeypox

Sharing towels or unwashed clothing with someone who has monkeypox

Respiratory secretions through prolonged face-to-face interactions (the type that mainly happen when living with someone or caring for someone who has monkeypox)
Monkeypox is not spread through:
Casual, brief conversations

Walking by someone with monkeypox, like in a grocery store

Swimming pools or hot tubs

Dancing at a party outside with people wearing clothes covering most of their bodies
Currently the virus is known to be spread in fluid or pus from monkeypox sores, and the CDC and other scientists are trying to better understand if virus could be present in semen, vaginal fluids, or other body fluids.
More information about monkeypox transmission is available on the CDC's website.
There are number of ways to prevent the spread of monkeypox, including:
Always talk to your sexual partner/s about any recent illness and being aware of new or unexplained sores or rashes on your body or your partner's body, including on the genitals and anus

Avoiding close contact, including sex, with people with symptoms like sores or rashes

Practicing good hand hygiene

People who become infected  should isolate until their symptoms are improving or have gone away completely.  Rash should always be well covered until completely healed.

Using appropriate personal protective equipment (PPE) (like a mask, gown, and gloves) when caring for others with symptoms

Avoiding contact with infected materials contaminated with the virus

Avoiding contact with infected animals
If you have symptoms:
Cover the area of the rash with clean, dry, loose-fitting clothing

Wear a well-fitted mask

Avoid skin-to-skin contact and close contact with others

Talk to a healthcare provider as soon as possible

Stay away from other people

Let sex partners know about any symptoms you have
If you get a notice that you might have been exposed to monkeypox virus at an event or party, think about your contact with other people at the event.
If you had close, physical contact with others at an event (like kissing or sex), you are at higher risk of direct exposure. You may be eligible to receive a monkeypox vaccine.
Follow the directions in the exposure notice
or contact your local health department:
Inyo County - Public Health
(760) 873-7868.
If you were at an event and did not have close, physical contact with others, you may not need a vaccine. Monitor for symptoms of monkeypox and talk to a health care provider.
JYNNEOS vaccine is approved by the US Food and Drug Administration for prevention of smallpox and monkeypox in people 18 years of age and older. However, since no vaccine is 100% effective, it is important for individuals to reduce their risk of potential exposures to monkeypox both before and after being vaccinated.
Monkeypox vaccine supplies
are currently very limited.
Information about the number of doses of monkeypox vaccine allocated to California and local health departments can be found on the California Department of Public Health's monkeypox vaccines website. The California Department of Public Health (CDPH) allocates doses to local health departments based on several factors, including the number of reported monkeypox cases in the area and estimates of at-risk populations.
>> The absence of cases and relatively small at-risk population in Inyo County when compared to larger urban areas means that Inyo County has not received an allocation vaccine doses from CDPH, yet. <<

If you have a rash or spots, your healthcare provider* can test you for monkeypox virus.  They will rub a swab on the spots and send the swab to a laboratory for testing.
Your healthcare provide may also do blood and urine tests at the same time.  Other illnesses like herpes and syphilis cause bumps that look like monkeypox virus, so it may be important to check for other sexually transmitted infections at the same time.
While you are waiting for your test results, you should:
Stay home and away from other people until your healthcare provider contacts you with your test results

Don't use public transportation

Get in touch with people you've had sex or close contact with and ask them to get tested
*If you do not have established care with a healthcare provider,
please contact Inyo County Public Health by calling or emailing:
Phone - (760) 873-7868
Email - PHAdmin@inyocounty.us
Most people get well from monkeypox without needing any medicines or other treatment.
There is no medicine that the FDA has approved for monkeypox infection treatment.
However, there is one medicine that is used for severe monkeypox, called tecovirimat or TPOXX.  It is allowed as an "investigational" drug in special circumstances for people who have severe monkeypox.
Right now, TPOXX is only available at a few treatment centers in California. Talk with your health care provider if you think you need TPOXX because of a special condition or severe disease.  Your health care provider will work with Inyo Public Health to obtain TPOXX if it is needed.