COVID-19 Vaccine Information
COVID-19 Vaccine Information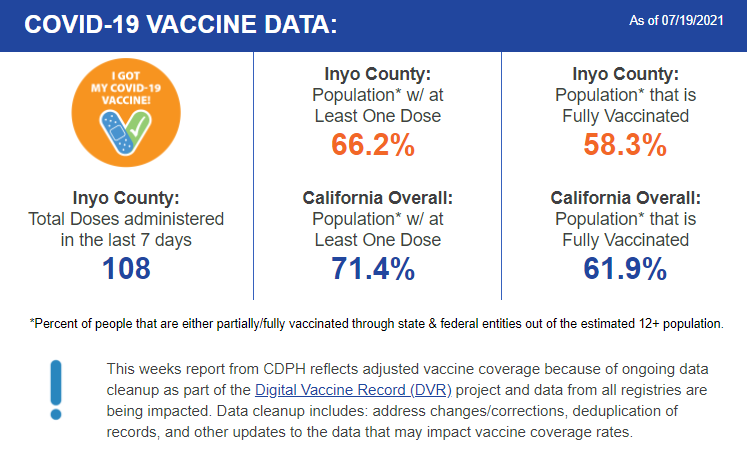 Inyo County Public Health is working with providers throughout the County to offer vaccine clinics. Available clinic information is included on this webpage (below) and in the weekly update emails.
Vaccine eligibility has opened up to ANYONE 12 years of age and older. Currently Pfizer is the only vaccine approved for those age 12 years of age and older. 
All three COVID-19 vaccines are FREE of cost:
If an individual has health insurance, vaccine providers are able to charge insurance an administration fee.

If you do not have insurance, you will not be charged anything for the vaccine.
Anyone can receive the vaccine: Public Health and all vaccine providers are not asking about or sharing immigration status with any organizations. We are committed to providing a safe place for everyone to receive the vaccine. You do not need to be a resident of Inyo County or have citizenship to receive the vaccine.
Inyo County COVID-19 Vaccine providers are currently offering:

Videos: COVID-19 Vaccine Information
Subscribe to our mailing list for weekly updates
Please Note: The updates are sent in English and Spanish; the language is noted in the subject line. You can unsubscribe at anytime.