In order to follow current health protocols and protect the health of our community
INYO COUNTY LIBRARY BRANCHES
WILL BE CLOSED TO THE PUBLIC
UNTIL FURTHER NOTICE.
Please refer to this website or call to get updates on the closure and what services may be available. Read more
With the restricted access to the physical library we suggest that you might check out our
online e-services. 

You can access these services with your regular library card and you PIN number (check with your branch library if you don't know your PIN). 

If you don't have a card, an e-card is available and you can sign up using our online form. 

For more information click below:

(Call your local branch library to get a regular library card to borrow from the physical library because we do have curbside pick-up during library closure.)
 
Vaccines save lives. Protect yourself and your loved ones by getting the COVID-19 vaccine. Learn more to build your vaccine confidence here (from the CDC): https://www.cdc.gov/coronavirus/2019-ncov/vaccines/index.html

The State of California has created several tools to make it easier for Californians to learn more about the vaccine and how to sign up to be vaccinated when it is their turn. Visit vaccinateall58.com to learn the latest about vaccines and encourage your community to sign up to be notified when it is their turn to make an appointment to get vaccinated at myturn.ca.gov.

 
During this time of curtailed library services many publishing and education services have provided special access to their services.  We have also found some links to sites that may be of interest as an alternative to the library, especially for kids.  Click here for  LIBRARY ALTERNATIVES.


For local coronavirus press releases and daily updates, local resources & guidance please see the INYO COUNTY COVID-19 RESPONSE page.  We have also collected some helpful CORONAVIRUS INFORMATION LINKS.  
CA COVID-19 Rent Relief provides financial help to eligible landlords and renters for unpaid rent. Applications are now open. Check eligibility and apply for immediate relief at HousingIsKey.com or call 833-430-2122.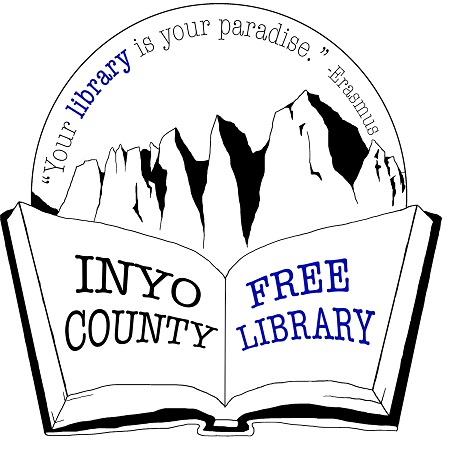 The Inyo County Free Library was formed in 1913, serves a population of about 18,000, and has six branches. The Library has a rich collection of local history materials at the Central Library in Independence, the county seat.
The library collection contains over 130,000 items, books, audio, and video, which can be discovered through our catalog.  This collection is also supplemented through our e-services with collections of e-books, downloadable audiobooks, e-magazines, and streaming video.  Public internet computers are available at all of the library branches.
For more information and help with the catalog go to our
How do I get a library card?
How do I request a book, video, or audiobook?