In order to follow current health protocols and protect the health of our community
INYO COUNTY LIBRARY BRANCHES WILL BE CLOSED TO THE PUBLIC UNTIL FURTHER NOTICE.
Please refer to this website or call to get updates on the closure and what services may be available. Read more
 
Voter Registration Deadlines for Upcoming Elections

Election Date:  November 3, 2020

Your registration must be postmarked or submitted electronically no later than:  October 19, 2020

You can apply to register to vote right now by filling in the online application. The application is available in English, Spanish, Chinese, Hindi, Japanese, Khmer, Korean, Tagalog, Thai, and Vietnamese. If you have any questions, visit Frequently Asked Questions or contact the Secretary of State's Elections Division at (800) 345-VOTE (8683) or by email or visit Inyo County Elections.

In elections conducted by your county elections official, you can "conditionally" register and vote at your county elections office after the 15-day voter registration deadline. For more information please go to Same Day Voter Registration.

Voter's Edge California, a comprehensive, nonpartisan online voter guide in English and Spanish, launched today to provide voters with unbiased information on candidates and ballot measures, from the top of the ballot down to local races, with the election just weeks away. California voters can make informed choices using Voter's Edge to explore candidates' priorities, endorsements and top donors, as well as ballot measure explanations and campaign funding. Information in the guide is updated daily.

 

The Census Needs You!

Every 10 years, the U.S. Census Bureau counts every resident in the nation. A complete and accurate count of California's population is essential to the state because the data collected during the decennial Census determines the number of seats each state has in the U.S. House of Representatives and is also used to distribute billions of dollars in federal funds to local communities. More than 70 federal programs that benefit California, including education, health, and transportation, use Census numbers as part of their funding formulas.  WHY THE CENSUS MATTERS
During this time of curtailed library services many publishing and education services have provided special access to their services.  We have also found some links to sites that may be of interest as an alternative to the library, especially for kids.  Click here for  LIBRARY ALTERNATIVES.

For local coronavirus press releases and daily updates, local resources & guidance please see the INYO COUNTY COVID-19 RESPONSE page.  We have also collected some helpful CORONAVIRUS INFORMATION LINKS.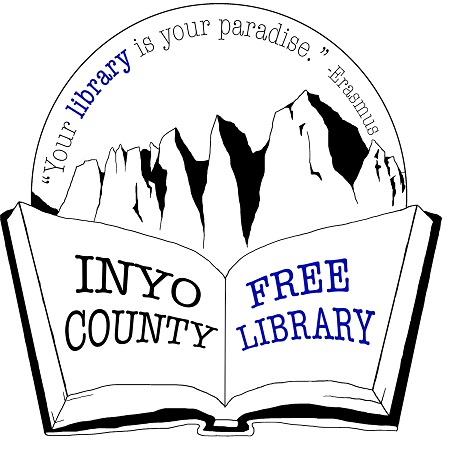 The Inyo County Free Library was formed in 1913, serves a population of about 18,000, and has six branches. The Library has a rich collection of local history materials at the Central Library in Independence, the county seat.
The library collection contains over 130,000 items, books, audio, and video, which can be discovered through our catalog.  This collection is also supplemented through our e-services with collections of e-books, downloadable audiobooks, e-magazines, and streaming video.  Public internet computers are available at all of the library branches.
Please select your home branch to go to the library catalog:
How to set the catalog to display search results for only the local branch
See the most recent books and other media that are new to the library--new releases and older titles recently acquired, added to the catalog, and available now.
NEW ACQUISITIONS AT THE LIBRARY
How do I get a library card?
How do I request a book, video, or audiobook?