Library Events
Celebrating Día!
April 27th — 30th
Join the Inyo County Free Library as hundreds of libraries throughout the country host special multicultural events in celebration of Día (El día de los niños / El día de los libros, Children's Day / Book Day).
Our library will be celebrating Día with a virtual storytime and take-home activity kits for the family!  Featuring a read-along book, recipe, and crafts!  Activity kits are available at all county library branch locations.  Check with your local branch for pick-up details and check out our Events page for the Día virtual storytime!
Activity kits are available on a first come, first served basis – so contact your library for pick-up details!
For a selection of BOOK TITLES from the 
INYO COUNTY FREE LIBRARY CATALOG
for celebrating Día click here.

 
DIA VIRTUAL STORYTIME:  Nacho's Nachos

 
For more information please contact your local branch:
Big Pine Library – 760-938-2420
Bishop Library – 760-873-5115
Central Library – 760-878-0260 (Independence)
Furnace Creek Library – 760-786-2408
Lone Pine Library – 760-876-5031
Tecopa Library – 760-852-4171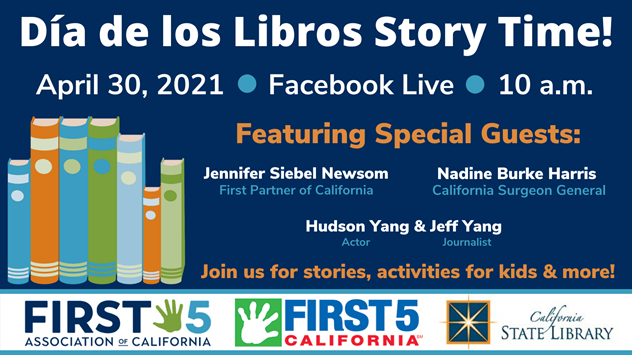 This online event will feature a live story time in English and Spanish, activities for kids, and special guests, including First Partner of California Jennifer Siebel Newsom, California Surgeon General Nadine Burke Harris, and celebrity guests Hudson Yang (ABC's Fresh Off the Boat) and his father, journalist Jeff Yang.
This special story time event is in celebration of Día de los Niños / Día de los Libros, a nationally recognized initiative that emphasizes the importance of literacy for children from all backgrounds.
RSVP at the Facebook Event Page, and click here for a webpage of resources and information for children and families.